SEGA - maniaci della pizza
Art Furniture Design direction by Hillsideout [Planning, Realization and Production] for a temporary shop [2016-2018] in Bologna
Start-up project for 2 years
Since our workshop became too small for us and its location in a busy bar street seemed to be a bit wasted, we decided to give it up in 2015. Friends came up with the idea of a delivery pizzeria, which looked like a good business due to the lack of good pizzerias in the area and the hills nearby. The workshop would continue to be a workshop for handcrafted production but in the slow food sector. That did sound easy!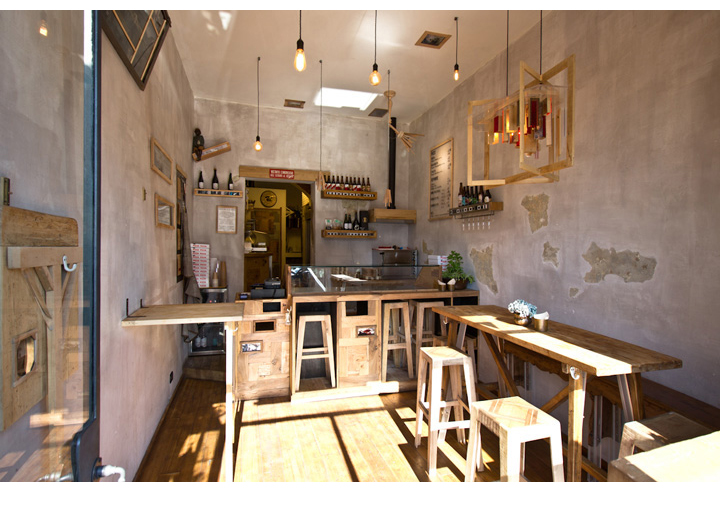 However, sometimes things seem easy turn out to be full of surprises and complications. After looking for the existence or seeing if we could install a gas pipe for the pizza oven we bumped into difficulties relating to the 17th century antique walls. We had to admit that without our knowledge of these very familiar walls the space would not be able to become something new. It also might close after a year like many shops in this street. So the only option was to participate in the project!
The idea to furnish a delivery pizzeria appealed to us for two reasons:
On the one hand, the place would accommodate people from different social backgrounds and allow them access to an artistic space, which many of them might not be able to afford, and all this in a delivery space that usually has no great ambitions in the significance of visual identity.
On the other hand, we met a great team of young bread- and pizza-makers who have a true passion for healthy dough and yeast bases - an important factor nowadays given so many people's intolerance or allergies which are in all probability due to too many artificial ingredients used in food production - and who were willing to collaborate. Their seriousness gained our trust.
After many months of work, the new space has been named SEGA - maniaci della pizza (Engl.: "SAW - pizza maniacs") and opened in Bologna - "il grasso" (the fat) - one of Italian capitals famous for its food - in February 2016. The space we have created turned out to be very intimate, probably because we know it so well. We are looking forward, nostalgically, to seeing our former workshop become once again a public everyday place full of life - previous incarnations include an antique furniture shop and a grocery store.
In 2018 our start-up project ended which means that the name and the furnishings changed but the pizza continues being the same having a lot of success in town.